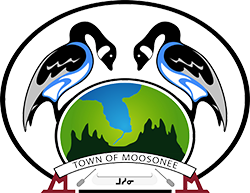 Moosonee Town Council
Moosonee Town Council is the governing body of the Town of Moosonee. The Council consists of the Mayor and four Councillors who are elected by residents to a four-year term of office.
2022 – 2024 Town Council
Mayor Wayne Taipale
Councillor Theresa Chavez
Councillor Sheldon Ross
Councillor Diane Ryder
Councillor Carman Tozer
Council Meetings
All Council Meetings are open to the public. Council meetings are generally held on the first and third Tuesday of each month, and begin at 6:00pm in the Council Chambers of the Town Administration Office at 5 First Street. The deadline to submit correspondence for Council's consideration is 12:00 pm on the Wednesday prior to each scheduled Council Meeting. Draft Agendas for scheduled Council Meetings are generally available to the public after 3:00 pm the Friday before a scheduled Council meeting.
Delegations / Presentations to Council
A Delegation is the term used to define the process whereby an individual, or a delegated presenter on behalf of a group, appears before the Town Council to:
present a request for Council's consideration, with supporting information / documentation, OR;
make a presentation to bring Council up to date on a project, idea or concept, with supporting information / documentation.
The subject matter of the delegation must fall within the municipal jurisdiction. Delegates are to address Council only, and shall not address staff or the gallery. No Delegate shall speak to any subject other than that for which they have received prior approval to address Council. Straying from that issue(s) may result in the delegation being terminated at Council's discretion. The time limit for a Delegation is 15 minutes, except for groups of 5 or more, when 2 people may be designated to speak/present for 10 minutes each. Time limits may be adjusted at Council's discretion.
When Council reaches a decision on the matter presented, written notification will be sent to the designated Delegate, and the decision is final unless a majority of Council agrees to review the matter again.
Anyone wishing to attend a Council Meeting as a Delegation must have their written request with specific details of their presentation along with supporting information / documentation, submitted to the Deputy Clerk at the Town Administration Office by noon the Wednesday before the Regular Council Meeting. The Deputy Clerk will confirm the date and time of the requested delegation, before 4:00 pm Friday of the same week.